THE COLOURS OF THE EARTH.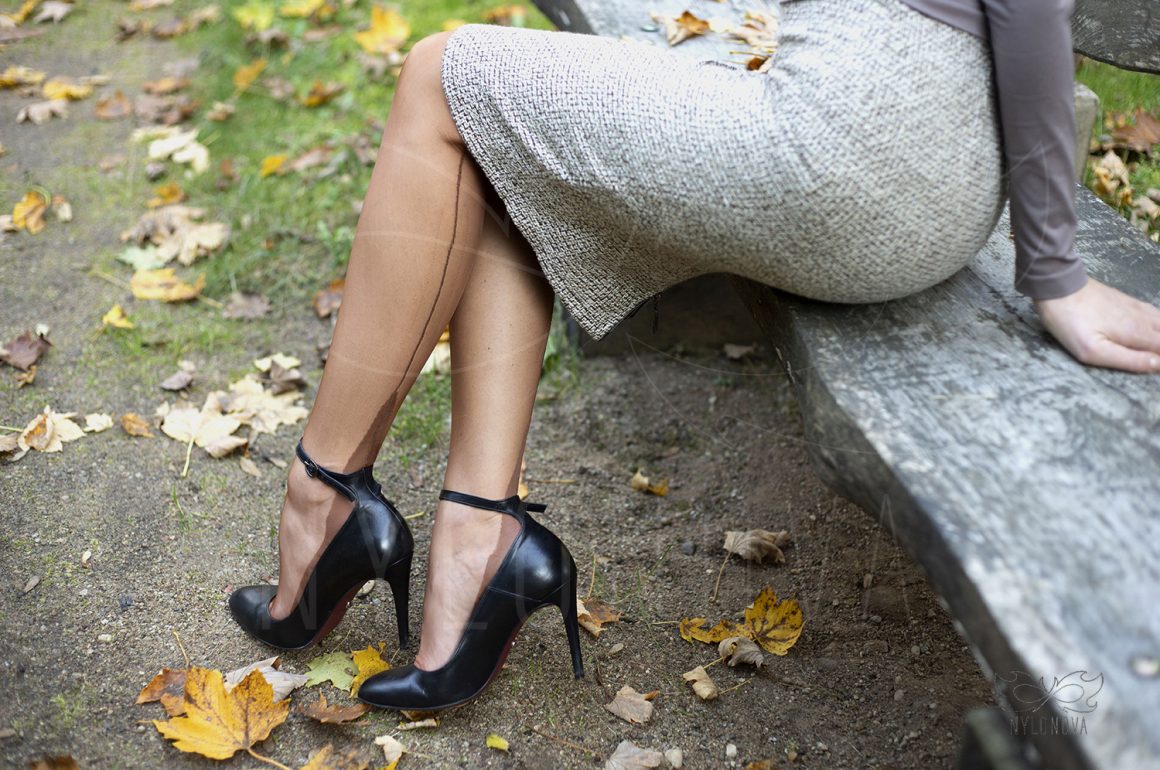 A walk in the park.
Do you like autumn? While I myself love to feel the warm sun and enjoy a healthy, sun-kissed skin color, I think autumn compensates it all by giving me that everyday pleasure of putting on and wearing nylon stockings. Morning or evening – it's always the right time and it's never too warm.
Besides, I can mix and match various outfits and play with colours, perfectly adapting them to my surroundings. The variety of shades out there this time of year allows everyone to search for their own variation in outfits using various hues of yellow, bronze or red.  Just like a chameleon, adapting to his environment. I must admit, I don't really like to blend in with the crowd and multiply the omnipresent repeatability.
That is why, when going out, I always look for and wear what I feel good and confident in, and not what is currently recommended by most stores. Of course, everyone who has seen pictures from our sessions suspects that the pencil skirt is king in my closet, but I don't limit myself to this look only, which you'll be able to see in the future. What allows a woman to feel unique and one of a kind are nylons. Since I put them on my legs for the first time, I haven't worn anything else! When we were taking these pictures, I had to have colours of the earth present in my outfit. The perfect place and time, and stockings in the shade of copper, and the two of us… taking big pleasure in being close and doing what we like. What could you want more? Only more moments like this one. It's true that I bet on classic solutions, because they emphasize femininity.
A perfect blend with the autumn shades. The warmth of her legs keeping away the chill of fall – @robo_suaveyfit
Contemplating their closet, women are often guided by trends set by creators of fashion, forgetting to simply show off their delicacy and womanhood. That's what makes nylon stockings so inimitable – they perfectly emphasize what's most beautiful about a woman. What is more, they are beautiful just on their own – they gleam, glisten, are incredibly pleasant to the touch, and sexy.
Gorgeous photo. So classy, but, if I was there in person, my heart would be thumping out of my chest – @serge_stormz
Look at the photos – the sun, autumn season, colours all around, and a matching outfit; and most of all, the eye-catching shade of copper.  All this matched with a pencil skirt, that every woman should have in their closet – that's just our opinion. Very autumny, classic and elegant. Of course, I'm aware that an outfit like this is not the best choice for a walk in the park, but who would care… It's all about the nylon stockings!
Please feel free to leave the comment below. We encourage you as well to subscribe to our website, and if you leave the comment, switch on comment followup notification. You will be notified of replies in current thread by email.   
Click here to see more photos from this shooting